Popvox triples the productivity of volunteer phone banks

Popvox is a Web-based service for quickly and easily creating outbound telephone campaigns. Popvox is enabling for distributed volunteer phone banks — while equally well suited for call centers that use dedicated facilities and paid agents. Customers can get started quickly with campaigns to contact large numbers of constituents.

A predictive dialer is a sophisticated productivity tool for outbound calling campaigns. The system dials numbers automatically, and filters out busy signals and no-answer numbers, allowing a typical agent to contact 3-4 times more households per hour than is possible dialing manually. Agents listen to music on hold while waiting, allowing answered calls to be connected immediately.


With Popvox, volunteers reach more constituents, with more focus
Volunteers log more time, and report better enjoyment
Call recording allows for quality control, and better training
Make calls from anywhere that has a phone and computer
Track the progress of teams and calling campaigns in real-time
Instant online survey results — no more manual data entry
Simple way to buy more productivity at pennies per contact.
Popvox offers a relaxed experience of easy productivity
Using a Predictive Dialer, agents make more contacts per hour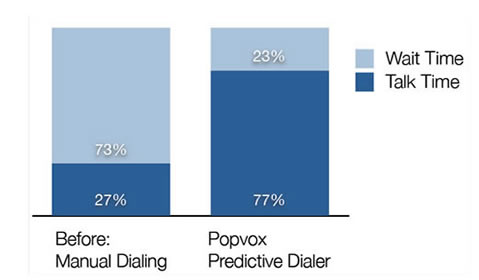 How Popvox works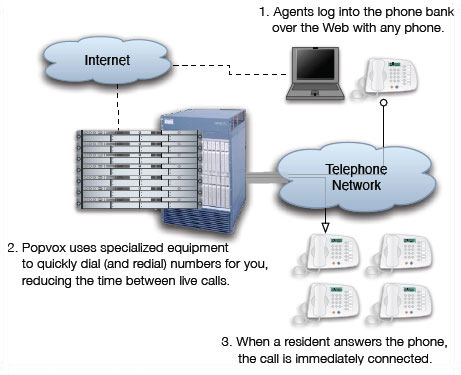 We host and manage all telephone equipment at our secure data center facility.
Why switch to Predictive Dialers?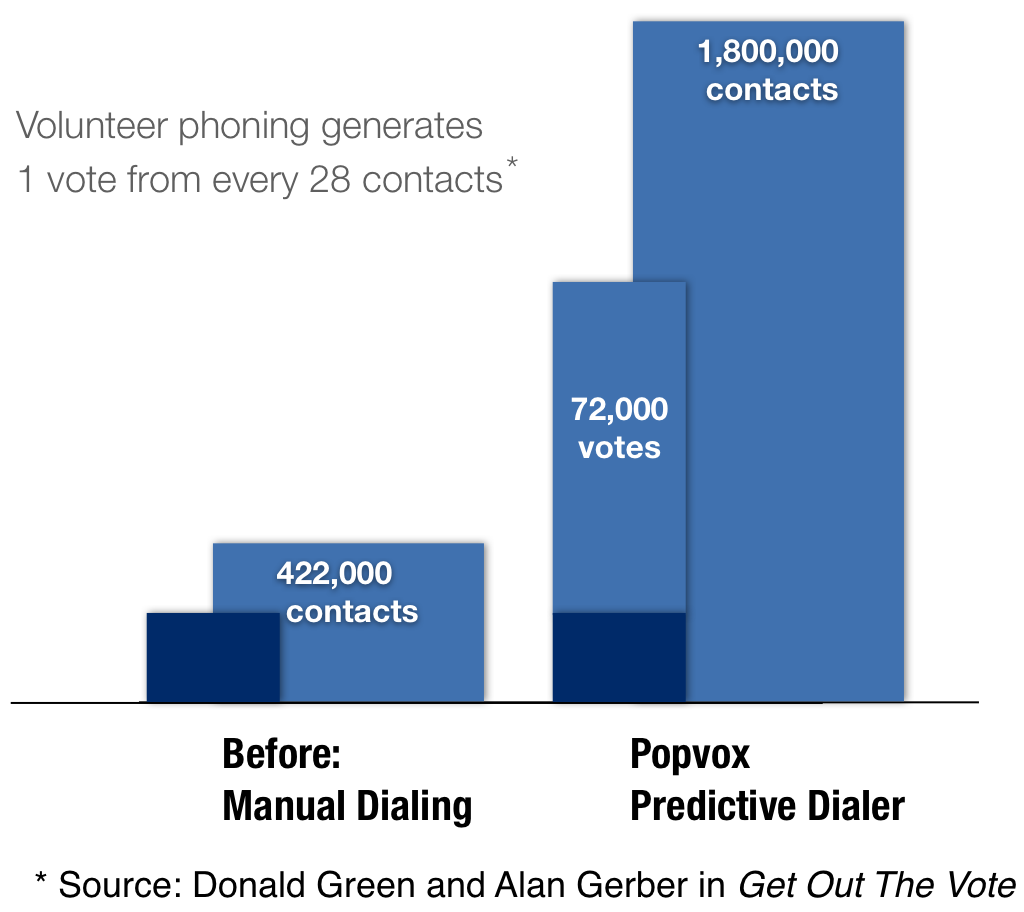 Typical past calling results
| | |
| --- | --- |
| Contacts per hour (using Popvox) | 60 contacts per hour |
| Contacts per hour (using existing system) | 16 contacts per hour |
| Improvement in productivity | 3.8 times |
| Contacts per vote (using Popvox) | 25.0 contacts per vote |
| Contacts per vote (using existing system) | 28.0 contacts per vote |
| Votes generated per hour using Popvox | 2.40 votes per hour |
| Votes generated per hour using manual dialing | 0.57 votes per hour |
| Average call duration | 1.10 minutes |
| Number of simultaneous callers supported | 200 callers |
| Average # of hours each Popvox seat is used | 150 hours |
| Added time logged by volunteers using Popvox | 12% more hours |
| Total volunteer-hours (using Popvox) | 30,000 volunteer-hours |
| Total volunteer-hours (using manual system) | 26,400 volunteer-hours |
| Voters contacted (using Popvox) | 1,800,000 contacts |
| Voters contacted (using manual system) | 422,400 contacts |
| Additional voters contacted | 1,377,600 additional |
| Total votes won (using Popvox) | 72,000 votes |
| Total votes won (using manual dialing) | 15,100 votes |
| Additional votes pulled | 56,900 more votes |
Assumptions used are marked in grey